Tag Archives:
South America
Achagua
Achawa
a Piapoko language of Colombia, in the Arawakan family
Speakers
~ 250
Listen
What can we say about the nation of Guyana? It's a fairly small country — well, most countries look small next to Brazil. Guyana is known for its preserved nature, unspoiled rainforests, scenic mountains, and wildlife. It's a somewhat black, somewhat East Indian, really mixed country all around with a diverse and unique face in the world. Ready to learn more about the English-speaking world? Let's talk about Guyana.
Geography: The Basics
Officially known as the Co-operative Republic of Guyana, the first thing to know is that Guyana's located in South America. The nation is divided into 10 regions which are broken into smaller divisions called neighborhoods. Each neighborhood, represent! The capital city is Georgetown within the Demerara-Mahaica region.
The country has a total area of about 83,000 square miles (215,000 sq km). That makes it a bit bigger than Belarus and a bit smaller than Laos. The country's population is over 743 thousand, slightly less than Bhutan or about the same as the city of Seattle.
Guyana on the Globe
So Guyana is actually part of a larger region called the Guianas. These are a group of countries and parts of countries in northern South America along the Atlantic coast, east of the Orinoco River. It shares land borders with Brazil, Suriname, and Venezuela with which it has an ongoing border dispute.
Most of the people and major towns are on the wet coastal plains, Georgetown included. Otherwise, Guyana has mountains inland at the Guiana Highlands. Mount Roraima is the highest peak which it shares on a 3-point border with Venezuela and Brazil.
The region has a bunch of those table-top mountains called tepuis, made popular in the Pixar movie, Up. The Essequibo is the longest river forming some major islands at its mouth. Also in the highlands is Kaieteur Falls, believed to be the biggest single-drop waterfall in the world!
The Climate
Pretty easy to describe, Guyana's climate is mostly tropical in the whole country. Of course, it is cooler in the highlands and wetter in the lowlands. It is fairly moist throughout the year with a rainier and drier season.
The coast and rivers have lots of wet plains, swamps, and mangroves, while sandy hills and savanna appear inland. There's also a large rainforest region part of the greater Amazon forest system. Guyana has one of the largest and best-preserved forest areas in the world for its size.
What's the History?
Like everywhere else in the Americas, Guyana was first inhabited by a number of indigenous peoples, most notably the Arawak and Carib tribes. The first Europeans that really settled there were the Dutch in the late 1500s, and they were able to set up a few distinct colonies there.
Later in the 1700s, the British took control, as you do. They eventually united the Dutch colonies into one and called it British Guiana, since there were other Guianas. Around this time, Venezuela started to dispute a large area of Guyanese territory as its own, claiming the area as Guayana-Esequiba.
And the claim has never really been resolved. Finally, in the 1970s Guyana gained independence from the UK, even though they've remained a part of the Commonwealth ever since.
Read more: about Canada and the British Commonwealth
One Weird Story
There's one strange part of Guyana's history that needed its own separate section. Just after its independence in the '70s, the government leased some land to this obscure American religious movement called the Peoples Temple. Over time, the group formed a cult that got real dangerous real fast.
The group went so far as to shoot down a plane, killing a U.S. Congressman in the process after he had just paid them a visit. If that weren't enough, the next day the group performed a mass suicide or murder drinking some kind of Kool-Aid rip-off with poison in it. It's a really random and odd story that is now tied to the history of Guyana. Alrighty then.
Okay … & Culture?
Even though Guyana is in South America, it is culturally a lot closer to the Caribbean. It's considered a part of the greater mainland Caribbean region (places like Belize, Panama, south Florida, etc.), and this shows in the music, speech, cuisine, and other lifestyle aspects of the Guyanese people.
Read more: about Belize
In particular, the culture has strong Anglo-Caribbean ties due to British colonization. This shows in English being the official language and its highly diverse population, hailing heritage from India, China, Africa, Portugal, and other parts of Europe. This also shows in its religions, where most the people are Christian, but there's a large Hindu minority. There's a smaller minority of Muslims and other beliefs too.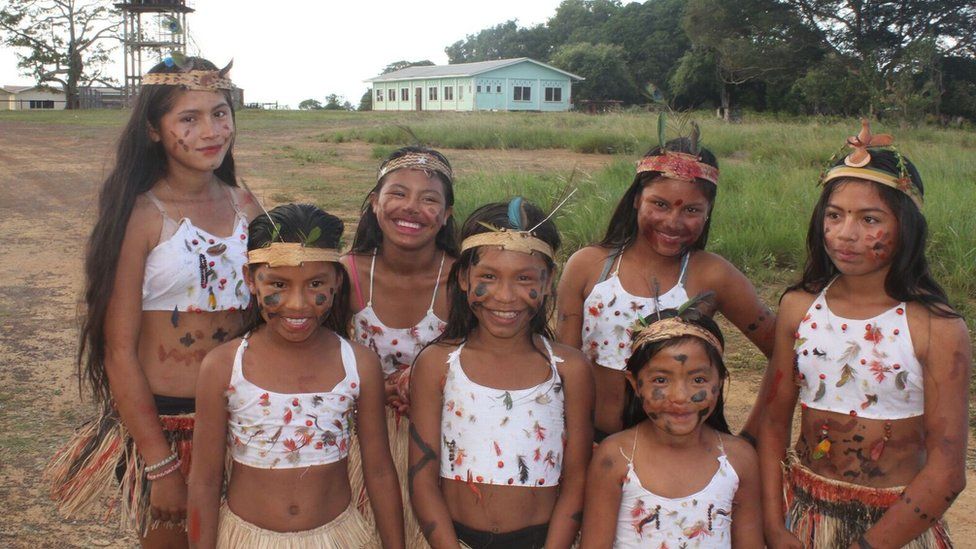 The nation of course gets immigration and influences from neighboring countries, especially the other Guianas. Guyana is one of the poorer nations in the region though, and it faces lots of challenges and corruption despite being a country rich in oil. They share a common history of Dutch colonization, heavy slave and indentured labor, and plantation lifestyles that other places like Suriname had. Even though it's so diverse, Guyana's people are centered mostly in a small area, allowing the different people groups to mix in well.
In the isolated areas, indigenous culture is more prominent, stemming from the main groups: Wai-wai, Macushi, Patamona, Lokono, Kalina, Wapishana, Pemon, Akawaio, and Warao. Beyond that, several communities were formed by escaped African slaves called Maroons, adding a unique flavor to Guyanese identity.
Even though Guyana is the only English-speaking country in South America, most people speak Guyanese Creole as a first language. A common feature in most Caribbean countries, Guyana still technically has its own language. Pretty cool.
**What do you think about Guyana? Did you know this stuff, or have you learned something new? I hope you can share more information with us, and I hope this article taught you more about the English-speaking world. Thanks for being a reader! Take care out there.