Anyone who's traveled inside the U.S.A. knows the answer to this already. For now though, I want to tackle this from a cultural perspective. I'm thinking of opening a new category later on that focuses on geographical differences. This here is about the American people. I'll break this post up quickly into the following categories:
religion
gun control
ethnic background
political stance
language & immigration
the weather factor
identity
I also won't talk about every state and city, but I'll try to break it down enough to give you a good idea. Starting off!
Religion
I want to begin with one of the most easily distinguishable differences between different states in general. As you might remember from my post about religion (if not, please check it here), the U.S. is mostly a Protestant nation. However, you'll remember that some places are less Protestant than others. While about 70% of Americans are Christians, there is a higher concentration of them in this general region called the South. That's why this region is generally known as the "Bible Belt," and it's where you normally find the most religious and traditional communities. Otherwise, the Mormon communities are identified as the "most religious" group in America, which I guess means they're super devout. Other hardline religious and cultural groups are the Amish and Mennonites around Pennsylvania and Ohio mostly.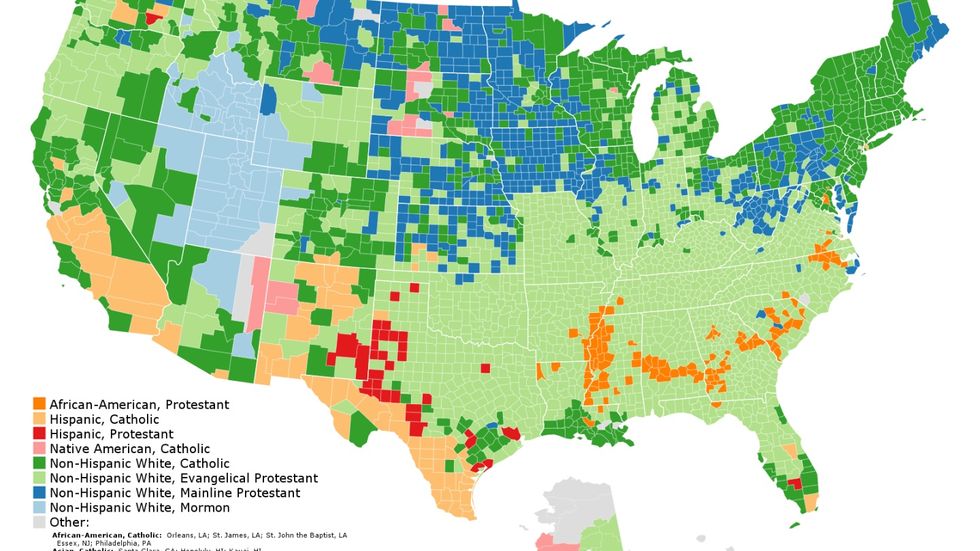 This map explains pretty much all I want to say about religion. Among Christians, the Evangelists and Black Protestants are super prevalent in the Bible Belt. Mainline Protestants are more common in the North, while Hispanic Catholics are really prevalent close to the Mexican border and around Miami. Otherwise, Catholics fill up the Northeast, and there are even a few enclaves in Florida, Louisiana, and Texas around where the Spanish and French used to have more influence. Mormons are really popular in the West, especially around Utah, and Native American Catholics have little enclaves throughout the West. Cool.
On the other hand, New England (Northeast) altogether tends to be the least-religious part of the country. But you can see, even within most of the states, religious affiliations change based on the region. Southern Florida, Texas and Louisiana are mostly Catholic while the northern parts are Protestant. The opposite is true in Illinois. And that should be a good enough intro for you.
Gun Control
That's right! American states differ greatly on whether they support gun control or not. Unlike religion, this concept has less of a pattern. There really doesn't seem to be a rhyme or reason to which states support more gun control over others when we talk about permits. States that require permits vs those that don't are pretty scattered all over the place. However, when we look at states that are gun-friendly, or are more accepting of having guns in general, the trends become more clear. These places usually coincide with states that are more rural or where people most like to go hunting.
The South and some parts of the West are pretty evenly supportive of guns. There are some lone anomalies, like Nevada in the West, Iowa in the Midwest, or New Hampshire in New England. Overall, it's easy to see the trend. Southern states support guns. A couple of random states in the Midwest support guns. Some random western states and most of the Northeast don't support guns. Apparently, Delaware, New Jersey, and Hawaii really hate guns. I feel like the big game hunting isn't so good in those states, though.
Ethnic Background
The U.S. is definitely a diverse nation where nearly all ethnicities and nationalities (not to mention cuisines) can be found. What is Laotian food, anyway?
However, this too depends on the state or city in question. For example, most big cities have more diverse populations than the rural areas. There are several cities with more "minorities" than there are white people (check my other article here for more on this). Looking across the board, cities are usually where you'll find a large chunk of diversity at.
Still, there are some other factors to look at. As you can see, people of English ancestry are found especially in the South and the West. German ancestry is all over that central-north area of the country, while Scandinavian ancestry sits way in the North. The Irish filled up around New England, while Italians were mostly around the Tri-State area (Metro New York). Native Americans are dotted about the West, while you even see many Inuit at the top of Alaska. French ancestry is strong in the Northeast and around southern Louisiana. Something to remember about the German area is that, even though it takes up the most space, most of that region has a small and scattered population.
Political Stance
Now, I don't like to get political, trust me. I will say that every state pretty much has either strong support for Democrats or Republicans. Some things to look for are that the West Coast, some western states, and the Northeast tend to swing more left, while most the other states swing right. Still, you'll find that across the country, most large urban areas will be more liberal-minded than not, and most rural or small urban areas will lean conservative. There are a few small exceptions to this, but it is almost the rule when looking at political stance.
Something else that's interesting is the so-called "Swing States." These are states that are caught in the middle and may stand on one side or the other depending on who's running for office. Florida, Wisconsin, Ohio, and Pennsylvania are classic examples of Swing States. In the most recent election (2020) some states like Georgia or Arizona proved to be new examples of Swing States. Even Texas showed to be a little more liberal than usual, despite its long history of being overwhelmingly conservative. No matter what you thought of the election, there's no denying that some places in America feel a little more blue than red. All we need is a white party to complete the American flag. Maybe it could balance the other two?
Language & Immigration
We already looked at ancestral ties between Americans in different states, but what about the newcomers? You might know that Spanish is the second-most spoken language in the U.S., but who speaks it depends on where you are. The Southwest has the most Spanish speakers, but most of them are from Mexico, with a big group of Central Americans and small groups of others. Meanwhile, Florida and the East Coast have tons more Puerto Ricans, Cubans, Dominicans and South Americans. Oh, and a lot of Mexicans too. Geography plays a role in this, since the East is closer to the Caribbean, while the West literally touches on Mexico.
You also get lots of Asians with their respective languages in major cities, but especially on the West Coast and New York. Some of the biggest and most authentic Asian communities are in places like Seattle, Portland, San Francisco, New York, Los Angeles, and so on. Of course, the West and East coasts are closest to Asia, so that's where a bunch of the Chinese, Filipino, Japanese, Indian, and even Middle Eastern immigrants have gone along with their various languages. For more on languages, check this post.
Something else to look at is historic minorities in the U.S. African Americans are especially prevalent in both the South, since that's where most the African slaves were taken, and big cities since that's where they moved to find work and security after being freed. Native Americans are most prevalent in parts of the West because that's where the most open and inhospitable parts of the country are. Many nations and tribes were driven from their homelands further east and forced to relocate out West, trading lush forests and rivers for, you know, deserts, tornadoes, and rattlesnakes. They were also forced to live with the people that already occupied these regions which was a problem because they spoke completely different languages, had different cultures, and were already there. Well, that's another post.
Weather Factor
Speaking of tornadoes, a big part of the identity of someone from any given state or city is their weather. It might sound trivial at first, but I'll show you. Think of Southern California and what comes to mind? Sunshine, beaches, and palm trees — I hope. Please, try not to think of anything bad! But this is the association someone from SoCal has, and so it goes for any other state or region. Seattle is famous for being rainy and cloudy, Arizona is known for extreme desert climates, Colorado is known for its mountains and skiing, and Florida is known for being sunny and tropical, with the occasional tropical storm. Chicago is famous for being windy and cold in the winter, while Hawaii is a paradise where it's always a nice beach day. The weather ends up determining a lot of how we perceive each state and city.
Identity
So, you put all these factors together and you get a good idea of what the identity of someone from a certain state or region might be like. There are many other factors, by the way, and no two people are the same, but this can give you an idea. For example, someone from New York City is more likely to be a Catholic with Italian ancestry who doesn't really approve of guns, probably a Democrat who speaks English but if they speak Spanish they're family is likely from the Caribbean or maybe they immigrated from China, they definitely like Chinese and Caribbean food but they're used to hot summers and freezing cold winters. Anyway, they might be none of those things, but you get the point. Every state and major city is a little (or a lot) different.
Alright! Tell me what you think of this post. Does your country have lots of diversity like the U.S.? Can you name some other differences between the states? Do you want to guess my profile based on this list? (hint, hint) I'm from Los Angeles.
Also, contact me or send me a question if you want to know more, talk, or give some suggestions for future posts. Right here: tietewaller@gmail.com
Thanks and be safe!
Here are some more resources:
Religion in the U.S.: https://www.pewforum.org/religious-landscape-study/
Map of religions by county: https://bigthink.com/robby-berman/dominant-religions-in-the-us-county-by-county
Least religious places in U.S.: https://en.wikipedia.org/wiki/List_of_U.S._states_and_territories_by_religiosity#:~:text=According to a 2011 Gallup,%)%20were%20near%20the%20median.
Gun-friendly states: https://www.zippia.com/advice/least-gun-friendly-states/
Ethnic Ancestry in the U.S.: https://www.reddit.com/r/MapPorn/comments/bfpbzu/largest_ancestry_groups_in_the_united_states_by/